Fish Dedication FAQ
Where will my fish be located? You may choose to place your fish on the fish passages at Manton Pond in Johnson or in Riverside Park in Providence. When you complete the fish order form, just choose your preferred location.
What is a fish passage? A fish passage, fishway, or fish ladder is a structure on or around barriers (like dams) to help fish migrate up and down waterways. We have built fish passages at each of the first five dams on the Woonasquatucket River. Currently, the fish can swim up to the Lyman Mill Dam in Johnston. Our ultimate goal is to open the way for fish to return to Georgiaville Pond in Smithfield.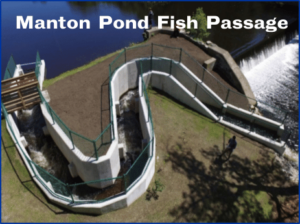 What and where is the the Manton Pond Fish Passage? The Manton Pond Dam Nature-Like Fishway is along the Woonasquatucket River Greenway multi-use trail in Johnston, RI, 5/8 of a mile upriver from Dyerville and 4-1/2 miles up river from the mouth of the Woonasquatucket. Above this dam, Manton Pond provides an excellent spawning habitat for fish such as shad that prefer pools. In 2017, the Woonasquatucket River Watershed Council completed our first nature-like fishway at this site. It is a series of pools and weirs in a concrete channel that looks like a stream to the fish. It is also very easy to observe the fish as they swim into the pools in this fishway. Over the years, we have observed many herring as they crossed this fishway on the lower river to new spawning grounds in Manton Pond.
Funds raised from dedicated fish at the Manton Pond Fish Passage will support improvements in this beautiful wooded area, including an outdoor classroom to support our environmental education programs. The Woonasquatucket River Rangers are also building a nature-based stormwater capture and treatment system to slow floodwater and pollution from entering the Woonasquatucket River–this provides protection and beautification.
What and where is the the Riverside Park Fish Passage? Riverside Park, on Aleppo Street in Providence, was once the site of Riverside Mills, a textile manufacturer. Riverside Park was our first major restoration project and remains a showcase for our "Nature at Work" green infrastructure installations, as well as amenities such as the Red Shed (home to our bicycle programs). The Riverside Park fish passage features a grate directly above the fishway. Visitors can walk and look down into this fish passage to see how it actually works.

Funds raised from dedicated fish at the Riverside Park Fish Passage will help support ongoing restoration and improvements along the Woonasquatucket River Greenway, including removal of invasive plants and trees, extensions of pollinator meadows, and ongoing green infrastructure installation to manage stormwater and pollution.
Can I check out the stainless steel fish now? Yes! We currently have these fish–designed by artist Jason Tranchida–installed at the Riverside Fish ladder. We will be working with artist Warren Collins to install a similar fish display at the Manton Pond Fish Passage.
What message can I put on the fish? We suggest you limit your message to 80 characters (though if you need a few more, we will make it work). Here are some examples of messages on the first group of fish that will be installed:
Jason and Warren will engrave and install fish in batches. When you place your fish order, we will be in touch to let you know when to expect your fish to appear along the river.
What if I have more questions? Please ask us! You can contact WRWC Development and Communications director Jill Davidson via email or give us a call at 401-861-9046.
I'm ready to order my fish!