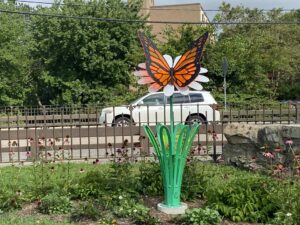 The WRWC was recently featured in EcoRI News!
The Woonasquatucket River Greenway, which spans 7 miles from Providence to Johnston, has become a vital community asset for recreation and environmental restoration. The Greenway started as an idea by Fred Lippitt in 1993 in hopes of revitalizing one of Providence's most impoverished and underserved neighborhoods.
Once filled with debris and used as a dumping ground for industrial and residential waste, the Woonasquatucket River was originally used as a power source for the industrial mills. Unfortunately, long after the industrial period, the river was heavily polluted, unsafe, and unseen by local residents. However, in the 1990s, the river was designated as an American Heritage River, which granted funding to help clean and protect the river and its surroundings. The WRWC, which oversees the Greenway and spearheaded efforts to restore the river, has greatly improved the river through local and federal funding, support from community members, and partnerships with local and state agencies.
Today, the Woonasquatucket River is much cleaner–though still contaminated from chemical pollution, it now includes spaces for residents to walk, bike, run, play, and gather together. Restoration efforts have also helped to reintroduce native plants and wildlife to the river's ecosystems. Various sculptures and visual art, created by local artists, line the Greenway and offer opportunities for artists to showcase their work.
In addition to the environmental improvements to the river, the WRWC has also worked with community members and local businesses to install green infrastructure throughout the Watershed. This infrastructure uses soil and plants to help capture and treat stormwater runoff before it reaches the river, reducing pollution and contamination. The WRWC is also using green infrastructure and community engagement to help empower underserved and vulnerable neighborhoods that are often disproportionately affected by climate change.
You can read the full story here.