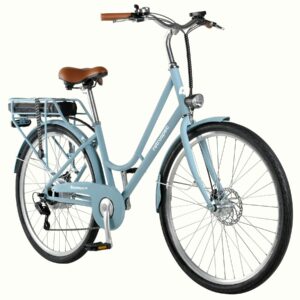 With a donation of $10, you'll get a chance to win a fabulous brand new Retrospec Rev City Electric Bike, valued at $1,200. Cruise on the Greenway and get your errands done in style with this step-through bike with a 42cm frame, suitable for most riders between 5′ and 6′ tall.
On August 6, 2021, at 11:00am, we'll be having a raffle drawing party at Cricket Field in Johnston and also on Facebook live.
Tickets are:
1 for a $10.00 donation
6 for a $50.00 donation
12 for a $100 donation
You can request your raffle tickets here. We have a limit of 2,000 tickets, so act fast and get yours today!
We are grateful to our friends at Dash Bicycle for support, and to our many generous donors for ongoing investment in our work.