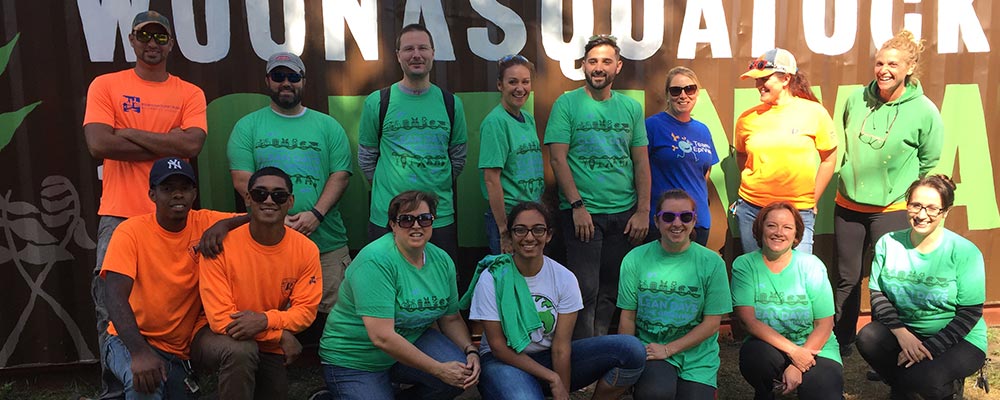 Group Clean Days
Overview
Group projects on the Greenway offer opportunities for meaningful teambuilding and community service. Throughout the year, we partner with corporate groups, schools, and nonprofits to do projects that keep the Woonasquatucket River beautiful, safe, and functional. Half-day group project opportunities are available throughout the year. Typically, projects often happen between 10:00 am and 2:00 pm, and timing can be customized depending on your group's needs.
To get started, please review the information below and then share your group's information on our Clean Days sign up form below.
Project Details
We offer opportunities to participate in horticulture projects that involve light gardening tasks such as raking, mulching, weeding, and planting. We also offer opportunities to join maintenance projects such as litter cleanups, in-water trash removal, sign painting, and fence- and bench-building. Depending on the size and needs of your group, horticulture and maintenance projects can be combined.
We provide:
An overview of the Woonasquatucket River and watershed, along with specific cultural and historical information about the project site
Water stations to fill reusable bottles and disposable cups
Hand sanitizer and/or handwashing stations
All necessary project equipment and supplies
We encourage participants to bring their own work gloves if they can; we also have plenty of "loaner" work gloves if needed. Participants should wear weather-appropriate clothing that can get dirty.
Please note that a person from your group must serve as the designated group project contact for communication and coordination purposes.
Corporate Engagement Contribution
We ask volunteer groups from for-profit companies to provide a donation to help cover the planning and material costs our volunteer events and to support the work of the non-profit Woonasquatucket River Watershed Council. Requested engagement contributions are $1,000 for groups of up to 15 and $1,500 for groups of up to 30. If your group is larger than 30, please indicate that on the sign up form and we will follow up to determine an appropriate fee. We also appreciate contributions from non-profit and education-related groups.
Project Locations
Needs along the Greenway determine the locations of projects, with most opportunities located in Providence, North Providence, Johnston, and Smithfield. We will work with your group to determine a project location that works for all involved.
Weather Policy
Because our projects occur outdoors, we will schedule a rain date following the primary project date, and we ask groups to commit to this date if possible.
Group Clean Days Sign Up