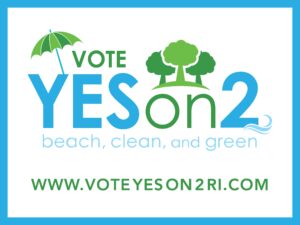 What is Question 2?
Question 2 is a $74 million bond that is on the ballot in Rhode Island's March 2, 2021 special election. Voting yes on Question 2 shows your approval for major investments in clean water, state beaches and parks, outdoor recreation, farm and forested land, water quality, and community resilience.
Question 2 also includes funding allocated to the Woonasquatucket River Watershed Council which will allow us to develop, improve, and rehabilitate public recreational projects and infrastructure along the Woonasquatucket River and its Greenway, from North Smithfield and Glocester through Smithfield, North Providence, Johnston, and Providence.
Remember to Vote!
Have you received your mail ballot? Fill it in and return it as soon as possible! The Secretary of State's office advises mailing your ballot by February 23 to assure delivery by March 2. Voters also have the option to vote early at their local City or Town Hall from February 10 to March 1 or vote in person on Election Day, March 2 (a limited number of in-person polling locations will be open on March 2).
For more information see the Vote Yes on 2 website.