There's a new art installation at Riverside Park!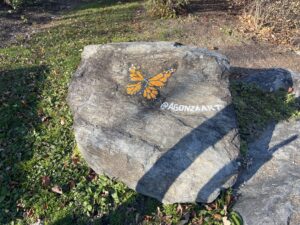 The artwork was created by Providence-based mural artist Angela "AGONZA" Gonzalez, and it features several monarch butterflies that have been painted on various rocks throughout Riverside Park. AGONZA's use of monarchs in her artwork is inspired by the growth, migration, and evolution of the captivating creatures. These themes are also reflected in the ways she has shown resilience in the face of hardship within her own life. You can learn more about AGONZA's life story and how her work has evolved in this Providence Journal feature story.
Here are a few quick facts about the monarch butterfly:
Monarchs

 are North America's only migrating 

butterflies

. They migrate to the Oyamel forests in Mexico where they overwinter and are a cultural symbol.
Males have 1 black spot on each hindwing (femoral pores) to attract females. Females don't have any spots.

Monarch

 caterpillars eat the milkweed plant which has a milk like substance within it that is toxic to other animals, including humans. Once the 

butterflies

 eat the toxin, they are then toxic to other animals.
The bright orange color of the

Monarch

 is an indication in nature that they are toxic. Other insects will mimic the colors of the 

Monarch

 in order to appear toxic to predators.
Unfortunately, as of July 2022, the monarch butterfly was re-classified as "endangered" by the International Union for Conservation of Nature (IUCN). To learn more about the monarch butterfly and how you could help this species, visit
Pollinator.org
or
MonarchWatch.org
.
The Riverside Park installation is not the only butterfly-themed piece that AGONZA has created in the city. You can find her other murals across Providence, including at Hartford Park and the Lilian Feinstein Senior Center.
AGONZA uses her butterfly-themed art as a way to connect with the community and illustrate the beauty of unity and evolution. "I want the community to be inspired to start creating a stronger PVD community environment where we can all be able to evolve with one another…I believe this will help our community take pride in where we live and the bonds we have created together." (from City of Providence Department of Art, Culture, and Tourism).
You can view more of AGONZA's work via her Instagram page @agonzaart, or support the artist through her Linktree.