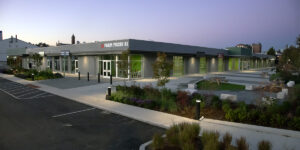 ***FOR IMMEDIATE RELEASE***
CONTACT:
Jesse Rye (Farm Fresh RI), 401-312-4250 ext. 117
Alicia Lehrer (WRWC), 401-497-8299
Sustainable Development Reshapes Key Providence Corridor: Farm Fresh RI and Woonasquatucket River Watershed Council Celebrate Partnership
PROVIDENCE, RI – On Tuesday, May 23, at 11:00 am, Farm Fresh Rhode Island (FFRI) and the Woonasquatucket River Watershed Council (WRWC) will announce their successful stormwater management collaboration at the FFRI headquarters on Sims Avenue, a testament to the power of environmental stewardship, economic development, and partnerships.
FFRI is celebrating the launch of its newly constructed headquarters in Providence—a 60,000 square-foot local food hub on a 3.2-acre parcel of land adjacent to the Woonasquatucket River in the Valley neighborhood. FFRI joined forces with WRWC as they built their headquarters to install systems that capture 100 percent of its onsite stormwater runoff, offering flood protection and pollution prevention where they are most needed.
FFRI Executive Director Jesse Rye notes, "When Farm Fresh took ownership of this site, we knew there was significant site work and environmental remediation needed—and we also knew that we had a once-in-a-lifetime opportunity to build something here that positively impacts the environment, the local economy and this neighborhood." He went on to say, "Our food hub is a national model for how to connect farmers and eaters—and that work happens at a location where we proudly were able to make significant investments in systems and structures that protect and respect the environment. We had a lot of help to get here, and we are so thankful for partnerships with organizations like the WRWC that continue to grow and evolve."
Alicia Lehrer, WRWC Executive Director, adds, "For the WRWC, Farm Fresh's stormwater capture and cleaning systems serve as an important part of WRWC's commitment to 'Greening the Greenway.' In this program, we use our 75-acre, 7-mile Woonasquatucket River Greenway as an opportunity to install and showcase nature-based stormwater solutions that use plants, soil, and trees to slow down and clean dirty stormwater as it flows to the river. At Farm Fresh, visitors can see nature at work in the form of gardens and other landscape features, installed and maintained by our own River Ranger team, improving water quality in the Woonasquatucket River and helping protect downtown Providence during major storms."
The "Greening the Greenway" initiative is thriving due to the foresight of Senator Jack Reed, who has been instrumental in environmental restoration efforts across the state and especially along the Woonasquatucket. Senator Reed spearheaded the Southeast New England Program (SNEP), administered by the US Environmental Protection Agency to improve water and habitat quality in Rhode Island and Southeastern Massachusetts. SNEP funding supported the Woonasquatucket River Rangers to install the landscape elements for FFRI's nature-based stormwater solutions.
Senator Reed notes, "This project represents the confluence of economic development and environmentalism. In such a small state with limited land development opportunity, we have a special responsibility to practice smart growth. I am thrilled to see how Farm Fresh Rhode Island, along with the Woonasquatucket River Watershed Council, are maximizing and strengthening existing infrastructure to transform a 19th century location for 21st century needs."
The Rhode Island Department of Transportation has been a key partner throughout the transformation of this part of Providence. RIDOT Director Peter Alviti, Jr. said, "RIDOT is pleased to partner with the Woonasquatucket River Watershed Council and Farm Fresh Rhode Island by coordinating enhancements to our stormwater systems as part of our compliance with Environmental Protection Agency stormwater requirements. We all benefit from this collaboration to contribute to clean water projects such as the beautiful gardens at Farm Fresh while cleaning stormwater before it enters the Woonasquatucket River, and eventually Narragansett Bay,"
FFRI and WRWC's partnership represents the kind of innovative collaboration that has transformed Providence's Valley neighborhood. "The success story of this partnership should serve as a model for how cities can bolster economic growth while also going above and beyond to make our neighborhoods more resilient and sustainable," said Mayor Brett Smiley. "I am proud to see the hard work of Farm Fresh Rhode Island and the Woonasquatucket River Watershed Council come to fruition to protect the environment and greatly improve the quality of life in the Valley neighborhood."
WHO: Featured speakers include:
United States Senator Jack Reed
RI Lieutenant Governor Sabina Matos
Tom Ardito, Director, Southeast New England Watershed Grant Program for Restore America's Estuaries
Terry Gray, Director, Rhode Island Department of Environmental Management
Peter Alviti, Jr., Director, Rhode Island Department of Transportation
Elizabeth Tanner, Rhode Island Secretary of Commerce
Providence Mayor Brett Smiley
Providence City Council President Rachel Miller
Jesse Rye, Executive Director, FFRI
Alicia Lehrer, Executive Director, WRWC
WHEN: Tuesday, May 23 at 11:00 am
WHERE: Farm Fresh Rhode Island, 10 Sims Avenue, Providence
PARKING GPS: 498 Kinsley Avenue, Providence
—
About The Woonasquatucket River Watershed Council (WRWC)
The WRWC creates positive environmental, social, and economic change by revitalizing the Woonasquatucket River, its Greenway, and its communities. By enhancing, extending, and bringing people to the Woonasquatucket River Greenway, the WRWC is a successful model of community revitalization that helps people discover this local American Heritage River and its natural resources, channeling life, and economic development into neighborhoods. Learn more at wrwc.org.
About Farm Fresh Rhode Island (FFRI)
Begun in 2004 as a student thesis project at Brown University, Farm Fresh RI has grown briskly to capture the public interest in locally grown food and translate it into sales for RI farmers and producers. Strongly mission-driven, Farm Fresh achieved 501c3 status in 2007, and has since implemented a variety of programs to enhance the local food system of the New England region, with particular attention to farm viability and low-income access to fresh food. Farm Fresh RI operates a wide range of marketplace programs (retail, wholesale, processing, hunger relief) that engage and connect tens of thousands of local eaters with thousands of New England farmers and producers. Learn more at farmfreshri.org.