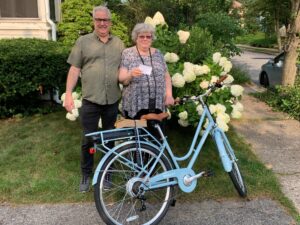 Congratulations to Sue Lane from Pawtucket, Rhode Island! Sue won the brand new Retrospec Rev City Electric Bike at our raffle on August 6, 2021 at Cricket Field in Johnston. Here is Sue's big moment, when her raffle ticket was chosen by WRWC board member Steve Bautista, along with remarks about the WRWC's work at Cricket Field from WRWC Executive Director Alicia Lehrer.
We had a fabulous time at the raffle drawing on Friday, August 6 at Cricket Field in Johnston. Following the drawing, historian Lou McGowan shared his knowledge about the lives and times of mill workers and owners when Cricket Field was part of the Greystone Mills community. Many thanks to Lou for his time and expertise! Thanks also to Johnston's Parks and Recreation director Christopher Correia and his staff for making Cricket Field look fantastic for the big day.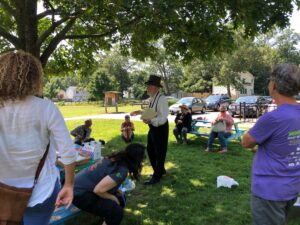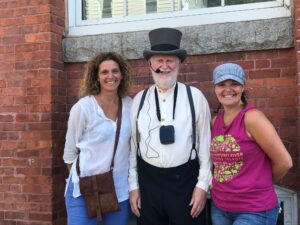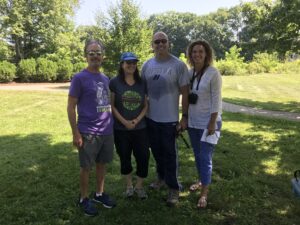 We are so grateful to all donors and supporters who entered the raffle. Your generosity helps us improve the Woonasquatucket River watershed. Your donations help create climate resilience, increase economic opportunity, and spread joy. We appreciate everyone who entered and hope you'll stick with us as part of the Woonasquatucket River Team.
Even though the raffle has concluded, we still need and welcome your support! To join us as a supporter, please visit our Ways to Give page or click on the Donate Now button at the top of the page.
We are grateful to our friends at Dash Bicycle for support, and to our many generous donors for ongoing investment in our work.
For more about engaging with our work as a supporter, please contact Jill Davidson, jdavidson@wrwc.org or 401-861-9046.