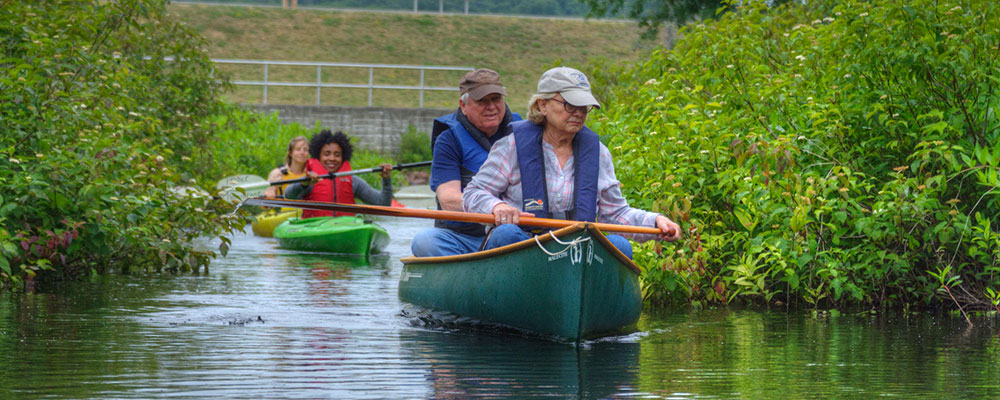 Safety
Some of the paddles can be strung together to create a longer trip but at this time it is difficult to make a complete source to sea trip. In the area of Centerdale, in North Providence, there is an active Superfund site that impacts both Allendale Mill Pond and Lymans Mill Pond. The EPA has deemed that these ponds are safe to paddle on as long as reasonable precautions are taken such as washing your hands after coming in contact with the water and cleaning any mud off your shoes and gear. However, since not many people have paddled in this area recently due to the Superfund site, the portages around the four dams between Greystone and the Manton/Greenville Avenue bridge are not well established. There are also no public access points on these ponds. The Woonasquatucket River Watershed Council is working to have this area cleaned up and is also looking into ways to make this part of the river more accessible.
Below this area the river is open to paddling but there can still be water quality issues. During and after heavy rains human pathogen levels (e.g., bacteria) in the river will be very elevated due to overflows from the sewer system, and it can take a few days for this to dissipate. The new sewage tunnel under Providence has reduced but not eliminated this problem. Sewer overflows in dry weather are rarer but can happen due to problems in the sewer system. The river bottom and riverbank sediments in the lower river also have many chemical contaminants in them. Fishing (other than catch and release) anywhere on the river south of Centerdale is not recommended due to the contamination in the river and the sediments.
If you are unsure of your paddling skills consider an easier trip, consider taking paddling classes, or come on one of the Woonasquatucket River Watershed Council's organized Paddle Tours, which are open to all skill levels, from complete beginners to experienced paddlers.