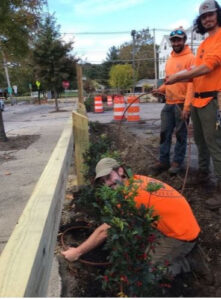 Our River Rangers were featured in the Southeast New England Program (SNEP) Network News! Read on to hear about SNEP's highlight of our latest green infrastructure project.
The Woonasquatucket River Watershed Council's River Rangers completed the installation for parking lot retrofits at Door of Refuge Church (Iglesia Puerta De Refugio) in the Olneyville neighborhood of Providence. SNEP Network Partners, Elizabeth Scott Consulting, Save the Bay, and project consultant, Fuss and O'Neill, provided technical assistance for the site layout and guidance for its construction. The WRWC's River Rangers installed the retrofit designs.
You can learn more about the SNEP Network here.