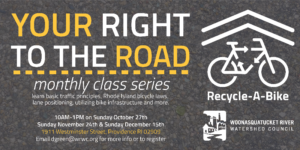 Your Right to the Road

I

Recycle-A-Bike
Sunday November 24th @ 10am – 1pm
Your Right to the Road class is designed to help everyone bike with confidence and and comfort while riding in traffic. In the first half of the class we will discuss your rights and responsibilities as a cyclist on the road.
Topics covered will include basic traffic principles, Rhode Island bicycle laws, lane positioning, utilizing bike infrastructure and more.
The second half of the class will be on-bike giving everyone the chance to practice the rules of the road we learned in the classroom.
This on-bike portion will include a group ride on city streets and parking lot bike handling and hazard avoidance drill.
**Please bring a working bike and helmet with you to class**
**Dress accordingly. Part of each class will be conducted outside**
Class Fee: $20
Location
Recycle-A-Bike
1911 Westminster St.
Providence, RI 02909
Offered by:
Donny Green / WRWC
dgreen@wrwc.org
(518) 572-4643