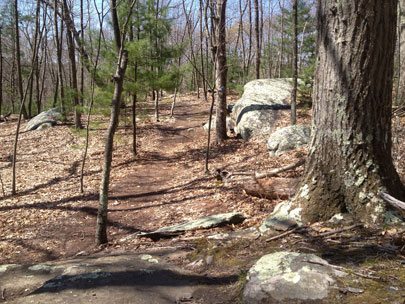 Date: December 3rd, 2022
Time: 10:00am
Wolf Hill is a long, rocky, north-south ridge running through the middle of the town of Smithfield, east of the Woonasquatucket Reservoir (Stump Pond).
We'll follow a gently rolling trail that's about 4 miles round trip, leading to Mercer Lookout, where we can see views of the Providence skyline and beyond. Many of the trails are old farm roads from the time when it was Mowry Farm. Most of the property is a mature oak and maple forest, with a few stands of pine and hemlock. The undergrowth contains many huckleberry and lowbush blueberry bushes and several vernal pools are visible from the trails.
In 2000 this property was acquired by the Smithfield Land Trust and in the ensuing years abutting land was acquired so that the protected area is now 300 acres.
In the center of the property is a memorial to three airmen who perished when their plane crashed on this site in August 1943. Bisecting the property is a right-of-way for National Grid's high voltage power lines. This right-of-way has created a low bush habitat for wildlife, where deer, wild turkeys, songbirds, and hawks can often be seen.
This hike is rolling and rocky at times and is recommended for hikers who are steady on their feet!
Register Now