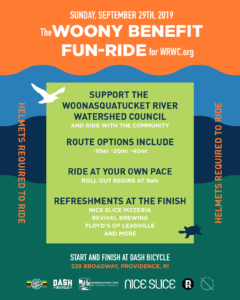 Woony Benefit Fun-Ride
Sunday September 29, 2019 @ 9:00am
The wonderful Dash Bicycle is hosting a bike ride for the benefit of the WRWC! The ride will start and finish at Dash Bicycle at 223 Broadway, Providence. Ride options are 10/20/40 miles. Food and refreshments will be generously provided by Nice Slice Pizza, Trinity Brewing, Floyd's of Leadsville and more! This is a fun ride, so you can ride at your own pace. Helmets are required.
How to enter: a suggested donation of $25, or any amount that you are willing/able to give.
We want you on this ride!
Use the link below to donate to the WRWC.
For those who want turn-by-turn directions on a mobile device: download the Ride Spot app, by People for Bikes, ahead of time (https://www.ridespot.org).