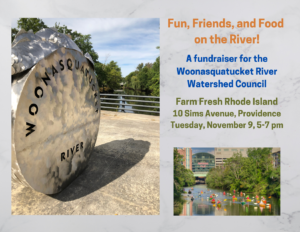 Fun, Friends, and Food on the River
What: A Fundraiser for the Woonasquatucket River Watershed Council
When: Tuesday, November 9, 2021, 5:00-7:00 pm
Where: Farm Fresh Rhode Island, 10 Sims Avenue, Providence, RI 02909
The Valley is emerging as a dynamic neighborhood of Providence, with an exciting expansion of small businesses, restaurants, arts organizations, recreation, and much more. For over 25 years, the Woonasquatucket River Watershed Council (WRWC) has been leading this change.
WRWC board member Christopher Riely invites you to an indoor/outdoor gathering at Farm Fresh RI's headquarters to learn more about the WRWC, including future plans for bike path extension, resiliency from floods, and partnerships with local schools. We'll also learn more about Farm Fresh RI's new food hub — and its work with the WRWC to green its surroundings and keep stormwater runoff out of the river.
Tickets are $125 and includes a tasty array of food and beverages from Farm Fresh's Harvest Kitchen and New Harvest Coffee & Spirits. $100 per ticket will go directly to the WRWC to support upcoming tree planting projects along the river at Promenade Street and Kinsley Avenue in Providence.
More details:
Kids are welcome.
Feel free to invite others who would like to come and support the WRWC.
We will follow the Rhode Island Department of Health COVID guidelines for gatherings.
Unless the weather is terrible, this will be an indoor/outdoor event with lots of fresh air. Please dress accordingly.