Fish Survey on September 18th
CANCELLED
Ever wondered how scientists collect data on fish and our river systems? You can find out by joining WRWC's fish survey in the Woonasquatucket River at Whipple Field in Smithfield. Volunteers are needed to help collect, identify and measure various fish.
Date: Sunday, September 18, 2022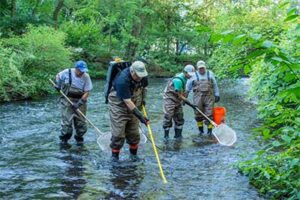 Time: 10:00AM – 12:00PM
Place: Whipple Field in Smithfield, RI 02917
Map: Whipple Field Map
Contact Clare at cbrown@wrwc.org with questions.