Come join us as we conduct a survey to see what's living in the river!
Date: Saturday, August 20, 2022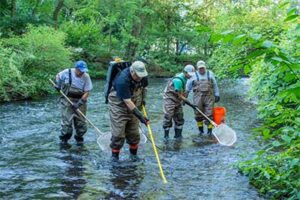 Time: 10:00AM – 12:00PM
Place: The Wheeler School Seekonk, MA 02771
Getting there: See it on Google Maps.
Ever wondered how scientists collect data on fish in our river systems? You can find out by joining WRWC's fish survey! We need volunteers to help collect, identify and measure various fish. Please join us and have fun!
We can't wait to see you.
Contact Amanda at apeavey@wrwc.org with questions.
Register Here!