This event has been cancelled.
We will reschedule. If you would like to join a any future wildlife survey events, please email Clare Brown at cbrown@wrwc.org. Thanks!
Come join us as we conduct an electrofishing survey to see what's living in the river!
Date: Saturday, August 6, 2022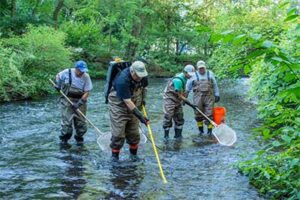 Time: 10:00AM – 12:00PM
Place: Burrs Pond in Seekonk, MA 02771
Getting there: See it on Google Maps.
Each year, we record what fish are migrating into our rivers as a way to assess the health of our river habitat. Volunteers can choose to join our on land or in water crew to participate for a hands-on habitat assessment. All data is collected and sent to the RI Department of Environmental Management to analyze.
We can't wait to see you.