EARTH DAY EVENT SERIES
Date: April 19, 2022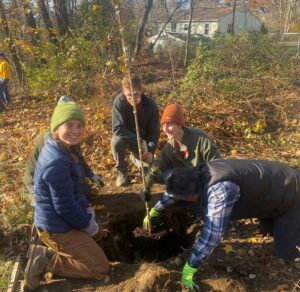 Time: 10am to 2pm
Place: Adams Lane, North Providence
Getting there: 7 Adams Lane, North Providence (off Waterman Ave). See it on Google Maps.
Meet us at Adams Lane in North Providence on Tuesday April 19th from 10am-2pm for a cleanup and tree planting! In collaboration with the North Providence Land Trust and the North Providence Mayor's Youth Commission, we'll be clearing brush, removing invasive plants and planting trees.
Help us continue the momentum in preparing this park to eventually be named in honor of the late Dave Westcott, who was the driving force to acquire this land. These trails will lead to one of the only public access sites to the Woonasquatucket River!
Contact Clare at cbrown@wrwc.org with questions