For 25 years, Lisa Aurecchia, the Woonasquatucket River Watershed Council's Director of Projects, has been the energy center of an extraordinary transformation in and around the Woonasquatucket River. Lisa's amazing ability to share her vision of a safe, accessible green spaces has transformed countless lives, and we want you to be a part of what she's going to do next.
With your help, we are raising $25,000 to amplify her powers of change in our community. Please join us!
Here's how to donate in Lisa's honor:
Donations via check: please send to WRWC, 45 Eagle Street, Suite 202, Providence, RI 02909. Please let us know that your donation is in Lisa's honor.
Your donations will enable investment in the future of the Woonasquatucket River Greenway for more connected off-road bike path sections within and beyond Providence. This means more transformational change–more green spaces, trees, flood controls, pollution reduction, and urban wildlife.
Your investment also helps us maintain what we've already accomplished with Lisa's leadership. This means more River Ranger jobs, improvements in our 75+ acres of Greenway, art installations, and community partnerships.
On November 10, 2021, our wonderful friend Barry Preston hosted a celebration in Lisa's honor. So many friends and partners came out to raise a glass to Lisa and her accomplishments. A few moments from that evening:
WRWC founder Jane Sherman celebrates Lisa's accomplishments.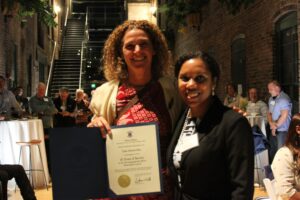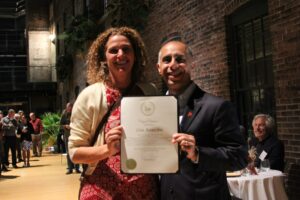 And a huge thanks to Barry Preston, host of this wonderful celebration for Lisa and the evening's master of ceremonies. Barry is an extraordinary partner and friend to the Woonasquatucket River Watershed Council. Thank you, Barry!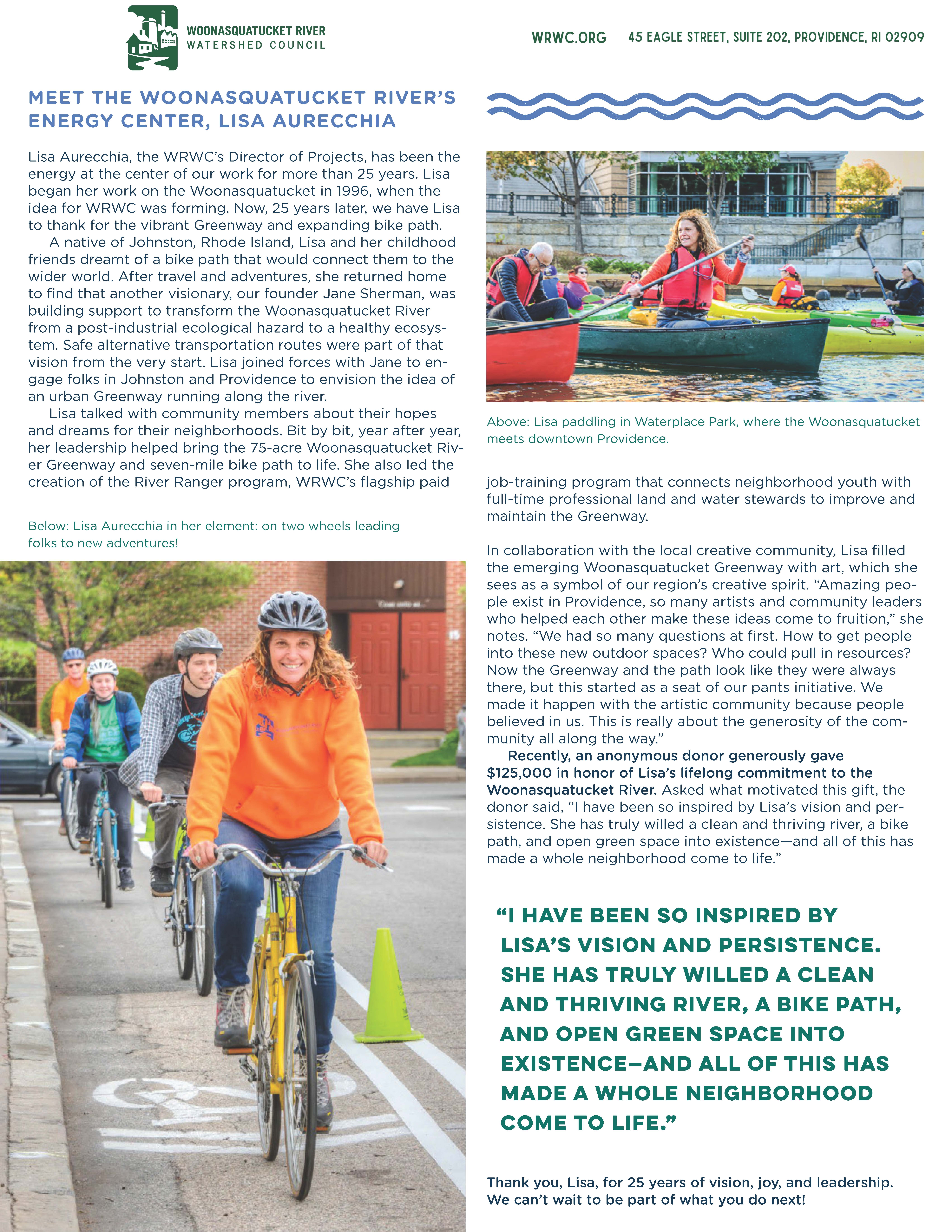 For more information, contact WRWC Development Director Jill Davidson at 401-345-2464 or jdavidson@wrwc.org. Thank you for your support and for joining us to celebrate Lisa's amazing impact.